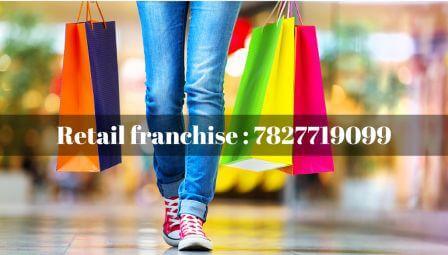 Top 5 Retail franchise opportunities in Delhi Ncr
If you are searching for some dealership business then this information for you.
We will discuss the best Retail franchise opportunities in Delhi which you can start. These are the best options for you.
Top 5 Retail franchise opportunities in Delhi are:
Floral Hut
Floral Hut deals with flowers and gifts. It has an exclusive range of flowers in different categories. They have flower arrangements, flower bunches, flowers in a glass vase, flower hampers, flower combos, etc. The floral hut is delivering beautiful flowers to people on different occasions, Floral Hut also has a number of gifts options suited for every occasion. They are ready to decorate all occasions like birthday, anniversary, marriage functions, parties, etc.

Area required: 250 sq. ft.
Investment: Rs. 6 lakh
Agreement Tenure : 3 yrs
Expansion: Pan India
They provide full help support to the franchise and share business marketing ideas. They have exclusive flower varieties and they use unique design with fresh flowers. At the time of the marriage session, they are earning very well and also the whole year through birthday, anniversary and parties are gaining much profit.
Rasoi Shop
Rasoi shop is India's first multi-brand Kitchenware store. It is an effective mega kitchen appliances mall. This will provides all kitchen solutions to its customers. Hence, It is a one-stop destination where all kitchenware is available in India. It is associated with 30 different brands with 1000+ products. It has great brand loyalty. Also, Customers trust Rasoi shop products.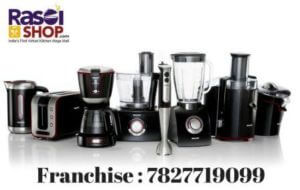 Requirements to be a member of rasoi shop:
Investment: 20 lakh to 30 lakh
Area required: 500 sq. ft. – 600 sq. ft.
 The Rasoi Shop retail franchise is that business which is tension free from the marketing promotions.  As this is also a Luxurious sector, therefore, it is a very profitable business option. As a result, everyone is searching for the home appliances franchise opportunity.
Ink blue
INK BLUE is providing affordable and trendy clothing options for both Men and Women in Casuals, Formals, Western, Ethnic or anything but fashionable. A perfect fit to wear the world. Ink blue deals with the unique fashionable design for Kids, men and women at a very reasonable price. Every year it launches its new and latest products to maintain trends.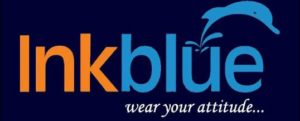 It is the world's popular brand. The franchise of Ink blue is a proven model. INK BLUE provides training and support to its franchisees. Also, Franchisee is given Store opening assistance, Marketing Support, Operational Support, Branding support, and Software facility.
Requirements:
Area required: 250 sq. ft. to 800 sq. ft.
The investment required: Rs. 12 lakh to Rs. 18 lakh
Beth
It is India's first fully built modular kitchens in steel and Stainless Steel. So, Its products are highly durable, quickly installable suits any budget, noise-free, multi-color, washable, hygienic, fire-free, pest-free, etc. Hence, Beth serving their services for many years and customers are happy to take Beth services. this is the best franchise opportunity in Delhi NCR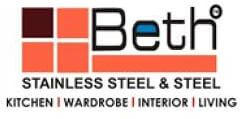 Franchise facts:
Area: 400 sq. ft. – 700 sq. ft.
Investment : Rs. 12 lakh – 15 lakh
ROI: 40% – 50%
People choose beth because it provides a fresh and modern looking home, fast delivery, free consultation, customized rooms, etc. You can earn better from it. Beth provides higher returns at minimum investment.
Tex n craft
Tex n craft is the company established in the 2000 year. It is a Furniture home decor and furnishing service, provider. Hence, It sales exhaustive and competitive priced range of Bedsheets, Blankets, Curtains,  Cushions, Bath Mats, Towels, Carpets, Rugs, Poufs etc.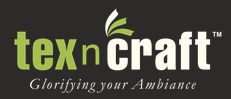 Requirements:
Investment: Rs. 14 lakh
Area: 750 sq. ft.
they are engaged in supply, manufacturing, and export of best quality Home Furnishing Products including Shaggy Rugs, Polyester Shaggy Rugs, Loop Chenille Rugs, Cotton Chenille Rugs, Rayon Chenille Rugs, Jacquard Cushion Covers, Cotton Fabric Bags, Designer Cotton Bags, and Topping Cotton Bath Mats to Cotton Kids Bath Mats, etc.
So Above were theTop 5 Retail franchise opportunities in Delhi and You can also comment to know More.
Select one of them any retail franchise business. We have other option are also available if you are interested in other options then comment below.
In Case you are Looking for Franchise opportunity in Delhi then contact us at 7827719099.
Also Read: