Home and kitchen appliances franchise opportunity
Home and kitchen appliances franchise is very lucrative Option . This is the daily need for every house.
The demand of home and kitchen solutions are very high. In addition the demand of this will never decrease because every day we uses it.
As this is also a Luxurious Segment therefore it is very profitable business option. As a result, everyone is searching for home appliances franchise opportunity.



So, in this competitive age of Dealership business We have a Home and kitchen appliances franchise / dealership for you.
Rasoi shop is India's first multi brand Kitchenware store.
It deals with products like
kitchen appliances, bake and cooking utensils, dinnerware and storage, kitchen tools, kitchen decor and cooking books.
Rasoi shop is an effective mega kitchen appliances mall. This Business Dealership will provides all kitchen solution to their customers. Hence, It is a one stop destination where all kitchen ware are available in India.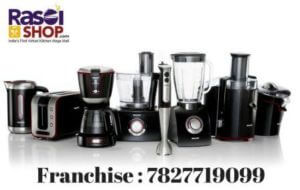 Rasoi shop has 22 years marketing experience. It built strong relationship with their customers. Rasoi shop sales 100% original and good quality products. As a result, it is associated with 30 different brands with 1000+ products. In addition, Rasoi shop aggressively expanding its range day by day.
Rasoi shop always pay attention on the sales of premium products with best quality products at honest prices. They also make available free home delivery to the customer.



Rasoi shop franchise requirements:
Area: 600 sq. ft.
Investment: Rs. 20 lakh to Rs. 30 lakh
Expansion: PAN INDIA
Reasons to be the member of Rasoi shop family:
They successfully completed 22 happy years.
Rasoi shop provides full help and support to set up.
It also makes available training program for the franchisees.
You can earn high return at very low investment.
It is very easy to set up.
So, Grab the Home and kitchen appliances franchise opportunity. Start your business journey with rasoi shop. for any query or details contact us at 7827719099.




Also Read: 
Shinag allied enterprises franchise opportunity