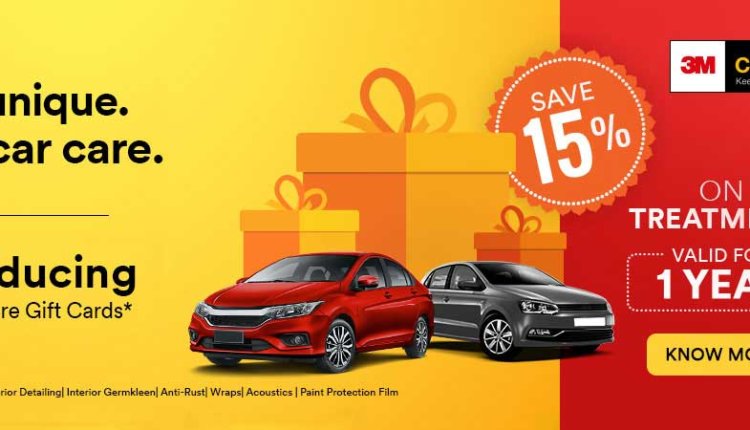 3M CAR CARE
3M India is leading the car care market through a nation-wide presence in more than 1800 car dealerships and a network of franchisee run 3M Car Care branded stores. These stores are addressing almost every possible need of car owners.
The 3M Car Care Store is a place where technology, people and car care converge. This is where you, a car owner will appreciate the tremendous power of technology and 3M`s great beliefs in human connect.
So when you visit a 3M Car Care Store, you would meet an enthusiastic store manager who loves what he does and will sometimes go overboard in explaining what wonders 3M products can do on your car. He will take you through our range of services that can transform your car to look like it's just walked out of a
showroom.
3M at a glance (Year-end 2014)
 Global Sales: $31.8 billion
 International (non-US) Sales: $20.1 billion (63% of company`s total)
 Operations in more than 70 countries
 3M products sold in nearly 200 countries
 89,800 employees globally
 2013 3M gives cash and product donations totaled $77 million
3M Car Care Achievements:
 Approved by all leading Car Manufacturers
 Preferred car detailing partner in over 1800+ car dealerships across India
 Distribution network of 220+ service providers reaching 240+ towns
 Dedicated team of technical trainers to support sales and applicator team
across regions
 Largest trained application base: 600+
 2 Lakhs average monthly treatment
 Now also present in 26 cities with 110 exclusive stores
 Enhanced Automotive Lab capabilities to conduct advanced research and
development.
What you can expect when you work with 3M:
 You get a Dedicated Organization
 For support and growth of franchisee stores right skilled team with diverse
franchising and retail experience.
Open 3M Car Care Franchisee Store:
Happy to see your interest in the 3M Car Care Franchise! A franchise that is going
to change the way India keeps its cars. An already matured and evolved business
in the USA, Europe and Australia, this is known as "CAR DETAILING".
The Formats:
>Manpower: 12-18
>Revenue Streams: Car Detailing
– Interior/ Exterior
– Corrosion treatment
– 3M Films
>Scotch wraps
>Scotch Paint Protection Film
>Car Care products retailing
>Car graphics
>Customer engagement area
>Bays for DIY activities
Investment Details:
Following are the details before you buy a franchise of 3M Car Care in India:
• Investment range 50lac – 1cr
• Franchise/Brand Fee INR 5,00,000
• Royalty/Commission 10 %
• Floor area requirement 1500 Sqft.
• Franchise Term 5 Years.
Expansion Locations:
The car detailing business is expanded all over India in the following locations:
• NORTH
Jammu and Kashmir, Delhi, Punjab, Uttarakhand, Uttar Pradesh.
• EAST
Assam, Odisha, West Bengal.
• WEST
Rajasthan
• UNION TERRITORIES
Chandigarh
We, at Franchise Batao, provide various business opportunities in various sectors like food and beverage, health & fitness, automobile maitenance, education, entertainment, fashion and many more.
So if You are Looking to open the Franchise in India then You can call us at 7827719099 or write to us at franchisebatao@gmail.com.