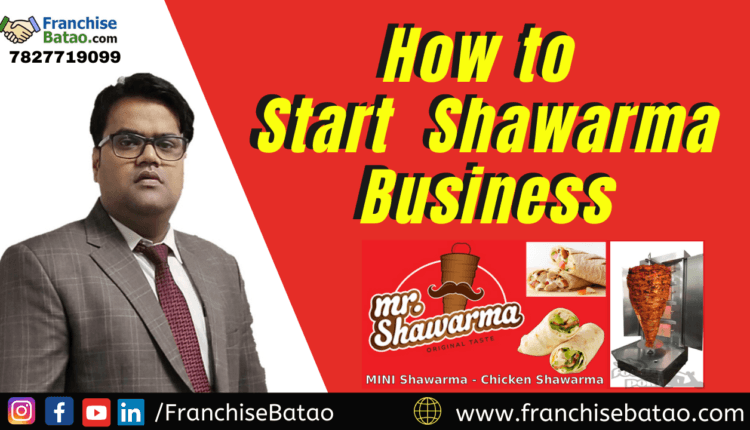 Mr. Shawarma Franchise Opportunity
The food industry has been ruling the market over the years. So here comes the Mr. Shawarma Franchise Opportunity for you.
Who doesn't love food? Therefore, the fast-food franchise is in the new trend.
Better the standard of living and more purchasing power, people prefer to get the food from outside, that is why online food delivery giants like Swiggy and Zomato got success in very quick time.
Globally, fast food generates revenue of over $500 billion. Now you got the idea why people are going towards acquiring the fast-food franchise in India.
Here We are Sharing the New Franchise Model of Mr. Shawarma
About Mr. Shawasrma Franchise
Mr. shawarma is a unit of Ambitious food and a unique startup with a vision to expand rapidly. We are currently operating in 4 different locations (Khanar, Chandigarh, Punjab, & Delhi-NCR).  We have a unique style of giving hospitality services to our customers, which gives us an extra boost to acquire new customers every other day. Delicious cuisine of famous countries is our main specialty which also keeps in mind Indian taste buds. We have a twist in making fast food in a healthy way and also getting some popularity among the youth.
Type of Mr. Shawarma Franchise in India
Cloud Kitchen Based Shawarma Franchise Model
Take Away Franchise of Shwarma Rolls
Dine-in Shawarma Franchise Model in India
Why you should Choose Mr. Shawarma Franchise
Best in Class cuisine – All cuisine that people love to eat.
Higher Growth opportunity – we are the startup that is expanding at rapid speed.
Full Support for any problem – From Marketing to growth.
No Compromise on Quality only – Best quality ingredients imports from across India.
Royalty charges –
Higher Returns on Investment.
Average 40% profit on every sale
Well trained workers.
Fee and Investment
Franchise Fee                                              2 lakhs
Setup Investment                                       3 Lakhs ( Vary on Model to Model)
Total Investment                                        5 Lakhs    
Franchise and Property as per regional would be bear by Investor.
Property Details
Type of property require                  High Street, Residencial Area, Market Area
Area required                                     250 sq. ft.
The people interested in buying the franchise of this store can contact us.
CONTACT US
Mail: franchisebatao@gmail.com