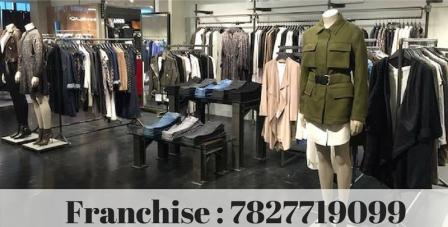 Low cost clothing franchise in India
Whenever you go to the market what you will find near you?
You will find more than 70% of the shops are multi brand retail store or fashion stores.
Why?
Because the purchase and demand are increasing day by day. That's why brands popularity are increasing. There are many brands who are providing  women clothing franchise opportunities in india, men clothing  franchise, boutique franchise, etc…
So, Starts your fashion franchise business with the brand in highly  recommended rather than starting your own.
Below, i discussed a top 4 low cost and most recommended multi Brands retail store franchisees.
The top 4 low cost clothing franchise are:
1. Raymond Ltd.
Raymond is the well known fashion store for men. It becomes a part of men life. With the more than 90 Years of Experience they ruled in the market.  The brand still serve end-to-end fabric solutions right from manufacturing worsted, woollen and linen fabrics to creating suits, trousers.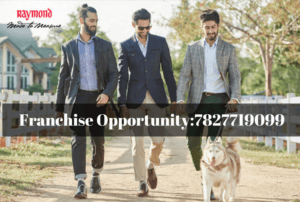 Raymond (Ready-To-Wear), Park Avenue, ColorPlus, Parx, Makers, The Raymond Shop, are the Brands of Raymond Ltd.
Raymond (Ready-To-Wear) is a premium formal wear brand that offers classic garments.
Park Avenue provides innovative and stylish wardrobe solutions for well-dressed gentlemen.
ColorPlus is one of India's premium and most popular casual wear brands offering a  wide range of shirts, knits, trousers, and survival gear.
Parx is a premium casual lifestyle brand, that is available to those consumers who are looking for dressing up for life across occasions and events.
Makers is a fabric brand from the house of Raymond targeting the ever growing Tier.
Their domestic distribution is spread far and wide with more than 30,000 outlets that stock and sell their wide range of fabrics. Raymond's deals with all types of men wear. They change themselves according to the customers need and trends.
They are produce nearly 20,000 designs and colours of suiting fabric that have found their way in over 55 countries including the USA, Canada,  European Union, Japan and Australia among others.
Raymond franchise needs:
Area required : 600 sq. ft. to 1200 sq. ft shop in the prime market.
Frontage : 15 feet
Investment required : upto Rs. 25 lakh with working capital of Rs. 25 lakh
2.  Richlook
Richlook is a mass brand. It is one of the most popular men's clothing and accessories store. They provide a variety of garments that suit requirements around the world. It deals with men's Blazers, Jeans, Shirts, Suits, Trousers, Waistcoat, SweatShirts, T-Shirts, Jackets, Accessories etc.
They strive to use only the most reliable and comfortable raw materials sourced from reputable mills in producing their garments. Richlook is a leading manufacturer and exporter of fashionable Garments.

Richlook is known for its products quality. Having stores on High-street & B Category malls. They are the one of the best supply chain system in the retail industry.
Richlook planning to expand brand's visibility firstly in  North india, New Delhi, Haryana, Himachal Pradesh, Jammu & Kashmir, Punjab, Uttaranchal, Uttar Pradesh etc.
 They are currently connected with the customers with retail stores in Delhi, UP, Haryana, Rajasthan etc.
To be the member of Richlook Family requirements are:
Investment : Rs. 20lac – Rs. 30lac
Area : Store Wise
Average Payback : 2 – 4 Year
Break even : 6 months
Return on investment : 35% per year
3. Kaira
Kaira is a fashion Player of the future. It is a fastest growing platform in fashion retail shop for ladies. Kaira is brand that balancing both ethnic and western clothing. It deals with party wear, western wear, Indo-western and ethnic wear for the women's. The brand is established in 2013. In such a small time currently it has more than 100 outlets in 100 plus locations in india.
Today kaira lauded as one of the India's most valued Women's wear brands. Kaira known as unique and fast offerings with the mix of ethnic and western touch. they are providing exclusive range of ethnic-inspired indo western and western clothing at an affordable prices.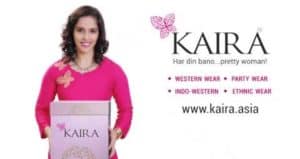 A complete one-stop female garment store, Kaira is endorsed by Saina Nehwal. Saina Nehwal  is an Indian professional badminton singles player. She is the only Indian women won at least a medal in every BWF major individual event, namely the Olympics, the BWF World Junior Championships and the BWF World Championships, etc.
They offer a unique and attractive retail business. It is proven successful business model in just four year. This franchise business model works on small retail outlets with minimum investment and high or quick returns.
Now they are planning to open more than 100 outlets in each  state. So, they offer Boutique franchise in india.
Investment : Rs. 20 lakh to Rs. 40 lakh
Store size : 300 Sq. Ft. – 700 Sq. Ft.
Return On Investment : 33% – 111%
Breakeven : 1.5 – 2.4 years
4. Crossbye
It is an international brand that that bring a trendy range of apparels for the ladies and teenagers girls. The brand is formed by group of people that considered as a pioneer business. Crossbye is highly fashion apparel brand that keeps up with the latest  trends. Their collection is inspired by runways, combining modern business fashion. Their styles are unique and focus on providing self-confidence.
With their styles they want to make laides better and love themselves. They strive to provide most fashionable clothes. It offers a wide range of high-quality women apparels. As a result, Crossbye having a great brand loyalty and strong presence in north india.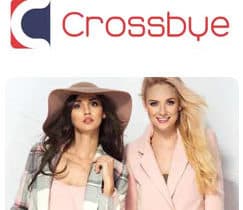 The brand offers an exclusive range of fashion clothing for women including dress, tops, trousers, shrugs, sweaters etc.
Their entire collection is for the modern era women who want to live on her own terms. Hence, here ladies can find classy formals, sassy party dresses, and casuals that redefine the personality.
Franchise facts:  
Area Req: 800 Sq. Ft. – 1200 Sq.ft 
Investment: Rs. 30lac – Rs. 50lac
Expansion: Pan India
So, above are the best low cost clothing franchise opportunities you can go for any one of them. These are best franchise ideas for clothing business. Hence, start your franchise business with well-known brand rather than your own because they provide quick return in low investment business. If you looking for any other option than comment below or call us at 7827719099.