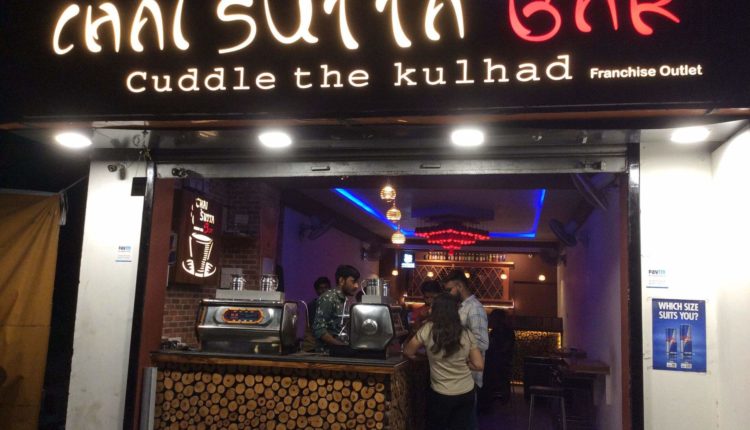 Chai Sutta Bar Franchise Opportunity [2019-20]
Chai is in the Heart of Indians and we all must have a Chai Story.
In this post, I am Presenting to you the Chai Sutta Bar franchise opportunity.
As the name suggests, it is based on 'chai cafe' (but doesn't promote any smoking substance.)
Now, Let just figured out why this franchise is what you need to get optimum benefit of your investment.
Chai Business Idea
India is the world's number one chai consumer.
Every other Indian craves for chai just after waking up and it's a demand never goes down whether summer or winter, that is why you would see the tea booth every 2 km of the area.
Young minds had seen this as a big opportunity to established. Now they have 48+ franchises all over India.
About Chai Sutta Bar India
Chai Sutta Bar is a fast-growing café in India and came into existence in 2016.
First, they planted their seed of Cafe in Indore and now they are situated all over India with 48+ franchises.
The Interesting fact about their cafe is that in their initial days they were able to sell 4000-5000 Kulhads every day and now they are standing at the mark of 80,000+ sales per day.
Chai Sutta Bar doesn't want to confine itself not only in India, but they also want to spread the Indian flavor of their Kulhad across the border.
Watch the Video of Tea Cafe Franchise 

The vision is to make its an international brand that describes the goodness of Indian tradition is served on the bar table by providing high-quality hygienic beverages in Kulhad at affordable prices.
And Want to expand Chai Sutta Bar Franchise all over India by opening at least 200 outlets to fulfill the market demand of hygienic tea which would not only motivate youth to reduce cigarette consumption but also it will uplift the people who work with us.
Owner / Director of Chai Sutta Bar
Mr. Anand Nayak (DIRECTOR & Co-Founder)

Mr. Anubhav Dubey (DIRECTOR & Co-Founder)

Mr. Rahul Gothi  (Managing Director)
Franchise Details
The following are the requirements for a Franchise of Chai Sutta Bar Cafe.
CAPITAL
Solid Financial backup with capable to invest.
EXPERIENCE
Considerable experience in the foodservice industry.
ABILITY
Able to look after day-to-day operations of the business
LOCATION
Adequate retail space at a prominent location
How to Get Chai Sutta Bar Franchise?
AREA REQUIRED
For Opening the Franchise of CSB you required and area of 80- 2000sq. ft. at any High Street, Educational or Commercial Place
FRANCHISE FEE
The Total Franchise Fee of Chai Sutta Bar Cafe in India is INR 6LAKH
TOTAL INVESTMENT
Total Cost may vary in Many Condition but on Average cost of Chai Sutta Bar Franchise  is INR 15 LAKH
PAYBACK TIME
As per the Current Running of the Franchise, the Payback Time is 1 YEAR 3 MONTHS
AVERAGE ROI
108 %
AGREEMENT TERM
5 YEAR
So if you are willing to start a quick-serve restaurant in the range of 15 Lakhs then Chai Sutta Bar is a Good Option to opt.
The people interested in buying the franchise of this store can contact us.
CONTACT US
Mail: franchisebatao@gmail.com
Disclaimer
Please confirm all the details of your own, Franchise Batao is not responsible for any material.