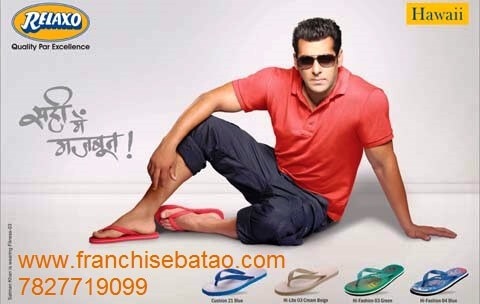 relaxo footwear franchise in India
Footwear Franchise India
India's leading Footwear Company since 1976 Relaxo gives you an opportunity of a franchise.
Relaxo is one of the leading and most popular footwear company in India. Millions of people choose Relaxo.
Relaxo produces over 6 lakh pairs of footwear every day and sell it in 143 cities through 250 exclusive brand store. Relaxo Company changes with the customers demand and for their comfort, style, and quality.
For a changing India Relaxo adopt changing environment with its sub brands. Therefore, Businessman are looking for relaxo footwear Franchise India.

There are many famous brands of Relaxo such as
Sparx shoes and sandals for sports shoes and sandals,
Bahamas slippers : Salman Khan is Promoter of bahamas trendy slippers,
Flite women and girls footwear,
Schoolmate shoes specially for school shoes,
and Relaxo Hawaii slippers.
Relaxo has a strong brand loyalty and visibility among customers by Bollywood celebrities like salman khan, Akshay kumar, Kaitrina Kaif, Sonakshi Sinha etc. As a result, Relaxo footwear franchise in India has a good market existence and customers. People like and use this brand and use it for many years.
Hence, Relaxo is a mechanism to meet quality and choice expectations of a young, changing, trendsetting India.
The company has launched a wide collection of colorful, durable, fashionable, comfortable footwear for men, women, and children in every season.
Relaxo Footwear Franchise
The relaxo company also increases its sale and competition through its online portal shopatrelaxo.com.
The majority of company's business comes from general trade, obsessed by more than 800 relaxo distributors across the country. The company has more than 90,000 outlets. The annual turnover of Relaxo in last 4 year increases from Rs.427crore in 2008-09 to Rs. 870crore in 2011-12.
If you are looking for any franchise business then this is the best option for you. So, be a part of the leader in sportswear in India. We need only good businessmen ability to invest and
Requirement for Relaxo footwear franchise in India
Area: Store wise
Investment Required: 10-15 lakh
Relaxo Company provides sales training to the sales staff, regional and marketing support for the franchise.
Relaxo is expanding its footwear franchise business. are you interested in the franchise opportunity in Relaxo footwear?  contact us.  And get started with this stirring business opportunity.
Also read
How to get franchise finance in india