Raymonds is with over 90 years of expertise in men's lifestyles.All Executives feel pride with having a raymond's outfit. Now we have a Raymonds clothing franchise Business Opportunity for you.
Raymond allows you to be a part of this fantastic journey with the Raymond family.
Raymond is a very trustful brand among customers. Its popularity is well known. In the market of worsted suiting Raymond rules. Raymond has 60% of market share in India and ranks among the top three integrated manufacturers of worsted suiting brand in the whole world.
Raymond is a well-known brand name. Hence, everyone wants to purchase Raymond. It sells all types of man wear.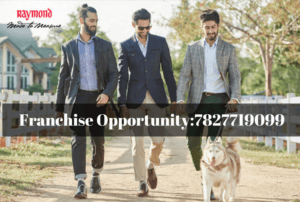 Raymonds clothing franchise Business Opportunity Facts:
Investment required up to Rs.25 lakh with working capital of Rs.25 lakh.
Area required 600 sq. feet to 1200 sq. feet
in key market it can be owned, leased, or rented.
The frontage should be of 15 feet minimum.
If you are joining them, you will surely get lots of benefit. Raymond's top brand Raymond Ltd, Park Avenue, Parx, colorPlus, and Notting hill are premium suiting fabrics, men's wear and accessories are very popular.
Inspite of several upcoming brands in textile and fabrics still Raymond is most popular and prefer one.
Raymond runs 650 retail units successfully across the country in this largest chain in textile and fabrics retail market.
So, now Raymond looking to scale up the operations and want to expand franchise networks. In addition, the main objective of expanding is to increase Raymond's existence. Therefore, here is the opportunity for you to start a franchise business by having Raymond own shop. So, start your fantastic journey to be a part of Raymond family through the franchise opportunity.
So, make the right move by joining the Raymond exclusive chain as a franchise.
Also Read:
Play mart franchise opportunity