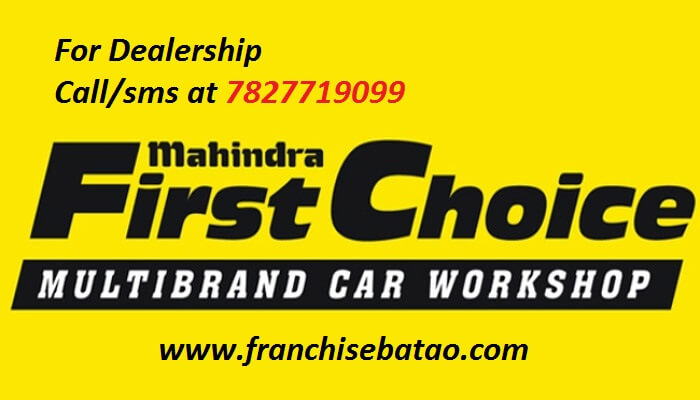 Mahindra first choice dealership is Increasing Day by Day. First Choice It is India's no. 1 certified used car company. MFC is an India's leading chain of multi-brand car workshops where all the service are available.
It has more than 22o First Choice dealership for Car service center in about 200 cities. I think most of the person Know about Mahindra First Choice. It is the Leading Brand in India for Preowned cars sell and Purchase.
Service Available at Mahindra First Choice Dealership in India.




You can sell your Existing Cars at First Choice.
You Will Also get the Good  second hand cars with warranty from Here.
Repair and Maintenance of Cars are Available.
Car Service are Done at its Best at Mahindra service center
All cars in MFC are passed with 118 quality checks.
Car Finance at the dealership itself




USP of Mahindra First Choice is that it is the one roof solution for Car service and maintenance with sell – purchase facility. It has serviced about 6,00,000 cars in India and the number is growing.  MFC promises to Provide the quality service with professional and trustworthy era.
There is complete Training and support system from mahindra for their Dealers and franchise.
Mahindra has already established countrywide network . The Next landmark decided by the company is of 400 workshops this Year.
The dealers of Mahindra First Choice receives in return:
Association return with brand Mahindra
Attractive return on investment
Faster ramp-up of business
Business knowledge and tie-ups
Organized customer experience
Innovative technology
Customers leads and walk-ins.
Goodwill in the Market to be associated with Brand Like Mahindra.
Investment and Requirement for First Choice Dealership.
The capital Investment required for First choice dealership is about 25- 50 lacs.
Space Requirement is about 1000-1500 square feet with minimum 15 feet front. There must be space of Parking of 15-20 cars at a time.
Your age will be 21 years or above.
If you want a reputed company Franchise and want to earn high Income then Mahindra First choice Franchise can be good for you.
How to apply for First choice Franchise or dealership
If you want to have the franchise of MFC then just apply here with your details and our executive will get in touch with you. Franchise Batao business consultant will assist you in all aspects.



For More you can visit  First choice website