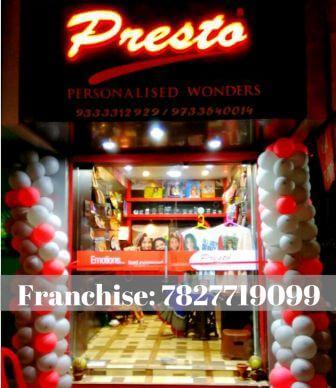 Low investment franchise business opportunity
Presto wonders franchise opportunity
Presto personalized wonders offering franchise opportunity. Now you can start a profit oriented unique trade with very low investment franchise business.
Presto personalized wonders is the India's largest retail chain of personalized gifts. It has unique business model and high profitability.
Presto deals with more than 800 unique gift items. Presto wonders is present in all over the India with more than 165 retail stores. It supplies products with unique and best quality. The brand is incorporated in June 1995. It has more than 20 years trading experiences.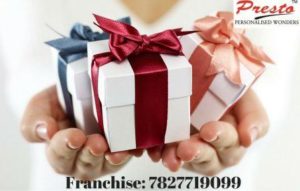 Out of 165+ retail stores operating in India 125 are operate through franchise. Every franchise owner are successfully running presto store and happily earning much profits. As a result, the Return on investment are drive from presto are enables franchisers to meet their all personal commitments.
The company also joins with the customers through online portal. Online customer can access any time. They are available 24 hours in a day.
They allow their customers to select gift, perform personalized in simplest step and then finalize the order in minimum time.
Hence, Presto committed to offers only products of superior quality. Their quality control team carries careful research and provides best and unique products.
Why presto franchise opportunity?
Presto assist their franchisees in Site selection and staff appointments. Creative and sales support
They provide training to the staff members.
Time to time update about products and industry.
Support you to identify marketing techniques.
Also make available franchise annual meetings.
They assure you for franchisees profitability.
They also provide onsite maintenance and technical support.
Also offer merchandising and POP support on all special occasions.
After joining the presto family you get chance to be inside large retail shops like BigBazzar, Reliance, and Pantaloon etc.

Hence, This is best profit oriented low investment  franchise business opportunity. So, be the part of presto family.  They support you to live your dream successfully.
Presto franchise facts:
Investment: Rs. 5 lacs onwards
Space: 80 sq. ft. to 400 sq. ft.
Location: shop or kiosk in Malls, shop in shop, high street
Start the journey with presto wonders and start earning.this is the best low investment franchise business option. For more detail or queries contact us at 7827719099.
Also Read:
Mahindra first choice franchise