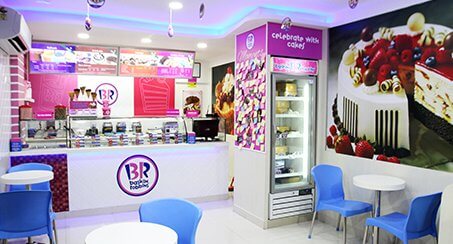 Baskin Robbins Ice Cream Franchise
Baskin Robbins
Introduction:
Baskin-Robbins is a global chain of ice cream parlours founded by Burt Baskin and
Irv Robbins in 1953. Baskin-Robbins is part of the Dunkin' Brands Inc. family of
companies. It claims to be the world's largest ice-cream franchises with more than
7,000 locations in 50 countries.
In India, Baskin Robbins is the largest Ice cream retail chain in the country
with over 725 + stores.
Vision, Mission & Objectives:
Vision
 "The BEST PREMIUM ICE CREAM PLAYER"
Mission
 "We exist to thrill customers, define and lead multi-branding, enrich
stakeholder, and build powerful brand image"
Objectives
 Creating Brand awareness
 Establishing BR outlets everywhere.
 Providing better value to stakeholders.
Becoming a Franchisee:
Following are the details before you buy a franchise of Baskin Robbins in India:
• For a typical food court model space requirement is (200 sqft. – 400 sqft.).
• You can open the franchise in India with investment of approx. Rs 10 to 20 lacs.
• Anticipated percentage return on investment is 35 %.
• Likely payback period of capital for a unit franchise 2-3 Years.
• Franchise term is for 5 years.
Segmentation & Targeting:
Segmentation
• Demographic
– All age group
– Higher middle & high income group
• Geographic
You can open this ice cream franchise in
– Malls
– High foot traffic area
Targeting
– Higher middle & higher income group
Distribution & Suppliers:
Distribution
 Baskins Robbins engages master franchise & unit franchises
S
uppliers
 Selected number of suppliers to maintain quality standards
Key success factors:
The ice cream franchise Baskin Robbins has the following factors for being successful:
 Innovations & New flavors
 Brand Image
 Quality control & customer service
 Global presence
 Excellent distribution network
We, at Franchise Batao, provide various business opportunities in various sectors like food and beverage, health & fitness, automobile, education, entertainment, fashion and many more.
So if You are Looking to open the Franchise in India then You can call us at 7827719099 or write to us at franchisebatao@gmail.com